Message of Thanks from Syrian Refugee Children to JICS - Voluntary Contribution of Stationery
May 15, 2014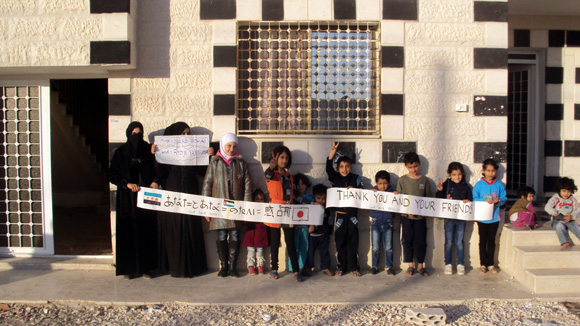 Syrian refugee children holding banners with the message "THANK YOU AND YOUR FRIENDS" both in English and in Japanese.
In Syria an armed conflict has escalated since 2011, and millions of people have been forced to leave the country as refugees. JICS is in charge of Japan's emergency grant aid project supporting Jordan as the Jordanian government's procurement agent. Jordan is one of the countries accepting the largest number of Syrian refugees in the world.
In October 2013 two of JICS staff members travelled to Jordan for the project. During their stay, they learnt that many Syrian refugee children were unable to go to school and Syrian refugees were troubled by a serious shortage of daily commodity necessary for life. After the JICS staff returned to Japan, they called for their colleagues to contribute stationery to the refugee children. Many JICS staff members responded to the call and donated a number of notebooks, pencils and crayons.
Visiting Jordan again for the project in November, the JICS staff delivered the donated stationery to the refugee children through a local charity organisation. A few weeks later, photos of the children with lovely smile holding the message of thanks in English and Japanese were sent to JICS.
Comments from the JICS staff who met Syrian refugee children in Jordan and deliver the donated stationery to them
"The life of Syrian refugees I saw with my own eyes was harsher than what I had known through TV and newspapers. I cannot forget the kids who smiled sadly saying that they want to go to school when I asked them what they want to do the most. I sincerely hope that the stationery we donated has brought a smile to their faces. At the same time, I feel it is important to remember, not to mention the predicament of the Syrian refugees, that Jordanian people are also overburdened by rapid increase in the number of refugees in Jordan."
"What I realized when visiting Syrian refugee families is that each of them is facing different problems. For instance, one family has the father suffering a serious injury with very small kids, and another family has the elderly person. I cannot help but pray for the bright futures of the children in the above photo."
© Copyright Japan International Cooperation System (JICS) 2023 All Rights Reserved.