Distribution of Pamphlet "Burning of the Rice Field" to Prevent Tsunami Damage
April 19, 2010
"Inamura no Hi (Burning of the Rice Field)" is based on a real story that took place when a large Tsunami hit a village on the coast of Wakayama Prefecture, Japan in 1854.
After the earthquake, Gohei, the head of village sensed something unusual. In order to notify the danger of Tsunami, he dared to catch a fire to piles of rice sheaves he harvested himself and drew an attention of villagers who were absorbed in preparing for their festivals.
Villagers rushed to the fire, and Gohei was thus able to evacuate them to a higher place and save many of their lives. This story, describing Gohei's judgment and action to save lives from Tsunami is still handed down in order to promote knowledge about Tsunami and its know-how.
In the aftermath of the enormous damage caused by the large-scale earthquake off the coast of Sumatra and by the Indian Ocean Tsunami disaster, MERCY Malaysia, Asian Disaster Reduction & Response Network (ADRRN) and Asian Disaster Reduction Center (ADRC) created the pamphlet about the "Burning of the Rice Field" in several languages, especially the ones of the disaster-stricken countries in order to enhance the awareness of disaster prevention from Tsunami.
JICS, based on the experience that assisted damages in Tsunami of Sumatra and earthquake the Indian Ocean, has set the education of Tsunami disaster prevention utilizing the pamphlet as one of social activities and distributes it to the concerned parties of the recipient governments who were engaged in the Grant Aid for Disaster Prevention and Reconstruction.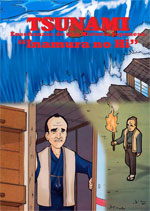 Spanish (translated by JICS) (PDF/1.6MB)
© Copyright Japan International Cooperation System (JICS) 2023 All Rights Reserved.