Inauguration of Al-Quds Street in Commemoration of Jericho 10000 Years
November 12, 2010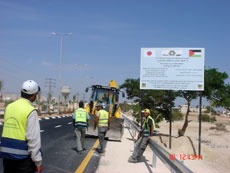 The installed signboard shows that the street has been constructed by Japanese aid.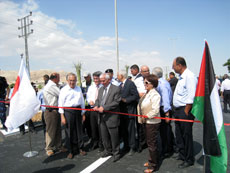 People concerned with the Project attended the ceremony.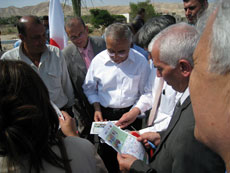 We distributed the leaflet of the Project's summary to the participants in the ceremony.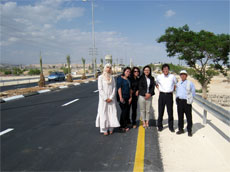 JICS Staff at Al-Quds Street
Jericho, the West Bank - At the main entrance of Jericho City, Al-Quds Street - one of the many streets funded by the Japanese Government and implemented with the support of Japan International Cooperation System (JICS) - has been inaugurated in the ceremonies for celebrating the passing of 10,000 years of the oldest city in the World.
The ceremonies were held under the auspices of His Excellency Dr. Salam Fayyad, Prime Minister of the Palestinian National Authority who indicated that these projects aimed to achieve the overall development of the Jordan Valley area, by the implementation of a series of sustainable development projects during the next 3 years, especially that the Jericho and the Jordan Valley constitute an important gateway to Palestine in the eastern border.
Jericho Mayor, Hasan Saleh who also attended the inauguration praised the Japanese Government for its efforts and explained that the total construction works for the Project is approximately 34 km of the internal City Roads; which includes the pavement of 47 routes, the rehabilitation of 12 routes, the construction of sidewalks for 4 routes and the installation of street lighting for 10 routes.
The inauguration of Al-Quds Street does not signify the end of JICS works in Jericho City; it is only the beginning. "More roads under the same Project will be implemented with the support of JICS in the upcoming months," asserted the Representative of Japan to the Palestinian Authority, Mr. Naofumi Hashimoto.
Al-Quds Street comes under the Project for Improvement of Internal City Roads in Jericho City funded by the Government of Japan to the Palestinian Authority and implemented by the Grant Aid signed on December 23, 2008 for the amount of 809,000,000 JPY.
The Japanese Government has been giving stimulus for Jericho and the Jordan Valley since July 2006, when Japan proposed its initiative of creating "the corridor for peace and prosperity" in cooperation with the Palestinians, Jordanians and Israelis. The strategic strip of the area makes a vital part of the State-Building plan that Dr. Salam Fayyad proposed about 1 year ago.
The History of Jericho City goes back to 6800 B.C. whereas the archeologists discovered houses made of clay and a stone-carved-ditch of 28 feet wide, and 8 feet deep surrounding the City which is situated in the middle of the West Bank, on the Eastern Bank of the Jordan River and North of the Dead Sea. Its fertile land is known for being suitable for growing crops that need hot weather like citrus, banana, and date palm trees. For that reason it is described by many as "Palestine's Food Basket".
© Copyright Japan International Cooperation System (JICS) 2023 All Rights Reserved.