Large-scale Infrastructure Development Project under the Economic and Social Development Programme: Upgrading of National Road Route 1
December 24, 2021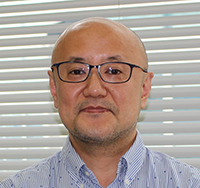 MIDORIKAWA Hajime
Our Efforts for Smooth Implementation


Rapid Implementation Even on Large-Scale Infrastructure Development Projects

Rapid implementation is required for the procurement of materials and equipment comprising the bulk of Economic and Social Development Programme projects. The same applies to large-scale infrastructure development projects, which are considerably more difficult, thus every effort was made to start construction as soon as possible. Immediately after signing the Exchange of Notes (E/N), JICS was on-site to conclude the agent agreement for procurement services, traveling back and forth several times to consult with various related parties. On April 22, 2019, approximately five months after signing the E/N and engaging in the tender process, JICS was able to conclude a contract with construction companies (a consortium comprising Dai Nippon Construction and Toda Corporation).

Even after the start of construction, we faced various problems and issues, including more rainfall than expected and limited communication with local residents, but we persistently resolved each issue through sincere discussions with the related parties.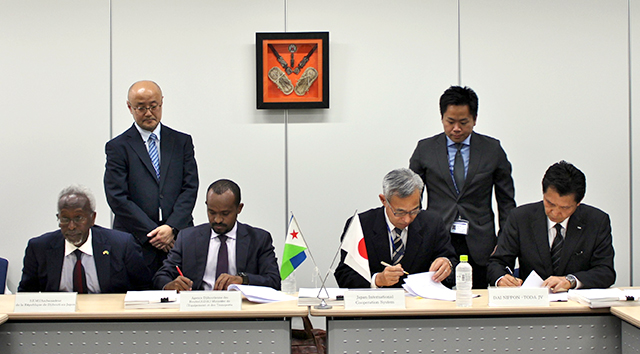 Signing the construction agreement in Japan
Close Collaboration with Various Related Parties


Project Was Completed as Planned by Moving Forward with Construction Even During COVID-19

The COVID-19 pandemic occurred during construction, and as the number of infected people increased in Djibouti, JICS considered how best to respond with related parties. Fortunately, the worksite and camp where construction personnel were stationed were located far from urban areas, enabling us to continue moving forward with construction and successfully hand over and open the road in early December 2020.

This project was completed due to the support of consultants who traveled to Djibouti to supervise construction at critical junctures and construction company personnel who made every effort on the site until the very end to complete the project despite the risk posed by COVID-19. Support from the Embassy of Japan in terms of both their response to the pandemic and involvement from the start of the project was also a crucial factor in completing construction. It was truly an all-Japan effort that enabled the achievement of this project, and JICS would like to take this opportunity to express its sincere appreciation.

Going forward, JICS will continue to achieve speedy implementation of all its projects.
Nine-span box culverts*
(Courtesy of Yachiyo Engineering Co., Ltd.)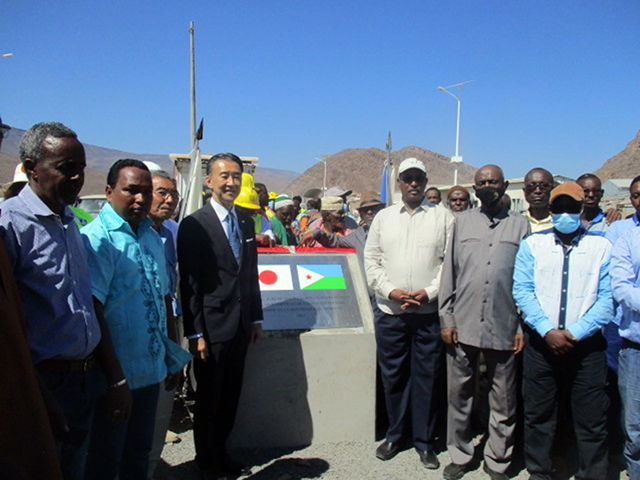 OTSUKA Umio, Ambassador of Japan to Djibouti, with the Minister of Equipment and Transport of Djibouti at the handover ceremony
(Courtesy of Yachiyo Engineering Co., Ltd.)
* Box culvert: A box-shaped concrete structure used for drainage channels and underpasses. In this project, they were used to span a local wadi (seasonal stream).
Project Overview
Urgent Construction of a Major Logistics Route Strengthening Connectivity
Djibouti National Road Route 1 is a major logistics route connecting the city of Djibouti with the Ethiopian border, carrying more than 90% of Ethiopia's imported goods.
However, as the severely damaged road hindered smooth logistics, the Government of Japan was asked to improve an approximately 20- km section of the road leading up to the Ethiopian border.
This was an urgent issue for both Djibouti and Ethiopia implemented under the Economic and Social Development Programme.
| | |
| --- | --- |
| Project Name | Economic and Social Development Programme (Upgrading of National Road Route 1) |
| Counterpart of Agent Agreement | Ministry of Foreign Affairs and International Cooperation of the Republic of Djibouti |
| Grant Amount | ¥3.9 billion |
| Exchange of Notes (Bilateral Agreement) | November 28, 2018 |
© Copyright Japan International Cooperation System (JICS) 2023 All Rights Reserved.