Republic of Indonesia
Emergency Grant Aid Assistance in Response to Earthquake Disaster in Central Java
Emergency Grant Aid (FY2006) in Response to Earthquake Disaster in Central Java
On May 27th, 2006, an earthquake whose seismic center was 20km south-southwest from Jogjakarta in the island of Java, Indonesia, occurred. It was estimated that more than 5,800 people died and more than 20,000 people were injured. The earthquake led to the collapse and damage of more than 220,000 houses. (As of June 6th)
Upon the decision of the Government of Japan to extend the grant aid for the earthquake disaster to the Republic of Indonesia on June 5th, 2006, JICS made an Agent Agreement with the Government of Indonesia for the procurement of the emergency relief good and management of the assistance.
In this project as the agent of the procurement and management, JICS contributed to the administration of the granted funds, the procurement and delivery management of the emergency relief goods, such as large- and small-sized tents and blankets.
From June 8th, 200 tents and other goods as a support for schools and people affected by the earthquake were delivered to the affected area in the Jogjakarta Special Region and Central Java Province. By July 16th all emergency relief goods had been delivered. It is expected that the emergency relief goods will help the life of the casualties in schools, houses, and local society.
From the end of July, JICS monitored the distribution and the usage of supplies for 2 months.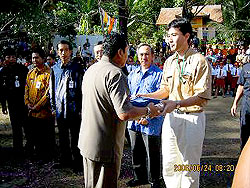 Handover of the relief goods (from a JICS staff to the governor of Central Java Province)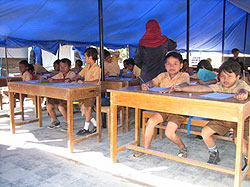 Children taking a final examination in the large-sized tent provided by the Japanese people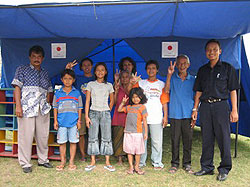 Family using the provided tent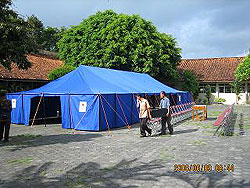 The tent used as a temporary classroom
Basic Information of This Project
| | |
| --- | --- |
| Project Name | Emergency Grant Aid (FY2006) in Response to Earthquake Disaster in Central Java |
| Date of Agreement between Governments | June 5th, 2006 |
| Grant Aid Amount | 4 millon US dollar |
| Client | National Coordinating Agency for Disaster Relief (BAKORNAS) of the Republic of Indonesia |
| Outline of the Project | On June 2nd, 2006, the Government of Japan decided to extend the grant aid assistance of 4 millon US dollars to the Government of Republic of Indonesia to provide emergency relief goods, such as tents for victim's relief. |
| JICS's Role | As the agent of the Government of Indonesia, JICS carries out procurement of emergency relief goods, and management of project. In addition, JICS monitors the distribution and the usage of goods. |
| Procurement Items | 3,700 large-sized tents, 2,400 small-sized tents, 2,400 plastic sheets, and 14,400 blankets |
© Copyright Japan International Cooperation System (JICS) 2023 All Rights Reserved.