My First Business Trip to Liberia
July 7, 2014
Shinji Roberto Nagasawa
First Procurement Management Division,
Second Management Department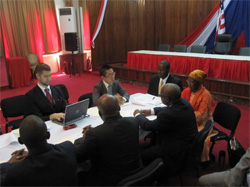 An image of how the Consultative Committee was held.
In February 2014, 10 months since I started to work at JICS, I had the pleasure to visit the Republic of Liberia (hereinafter referred to as "Liberia") for a business trip, to participate in the Consultative Committee (hereinafter referred to as "the Committee") for the Food Aid Project.
The Government of Japan, through the Grant Aid, donated to Liberia funds necessary for the purchase of rice. However, the rice imported with this donation will not be distributed free of charge throughout the country. "Why do not provide free rice for those in need?", many would think. Yet, imagine what would happen if a large quantity of rice such as the one imported with this project (about 12,000 MT) will be introduced in the market free of charge: everyone would demand for free rice, and the one already in the market might not sell as planned.
In order to avoid that, and to provide more competitiveness between different brands of rice, the donated rice from the Government of Japan will be available at a price slightly lower than the other ones currently sold in the market; moreover, its proceeds will be deposited as "Counterpart Fund" into a special account opened by the Government of Liberia. This Counterpart Fund will be then utilized, under scrutiny of the Japanese Government, for Liberian socio-economic projects. For example, past Counterpart Funds have been utilized for Liberian-made rice increase projects: thanks to that, Liberian national elementary schools can now provide Liberian-made rice in their food programs. Furthermore, in order to accelerate and optimize the whole process implementation, the Embassy of Japan and the Government of Liberia are also conducting minute monitoring and evaluations on all the Counterpart Fund projects.
The Committee was honored by the presence of many high-rank officials, of Ministers and Deputy Ministers levels, from different institutions such as the Ministry of Finance, Foreign Affairs, Agriculture, and Commerce and Industry; besides, those from private sector, representatives of rice wholesalers and distributors also attended the Committee. Their participation was indeed extremely relevant because they provided highlights on the current rice market in Liberia, and also delivered the voices of the Liberian consumers. These indicators resulted to be crucial in establishing the proper distribution plan and strategy. Moreover, their statements served as a report on the current operational issues, which developed into further fruitful discussions and problem solving among all stakeholders.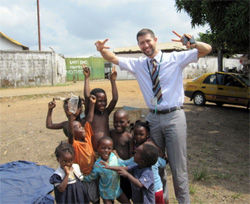 With children living in slums nearby the Port of Monrovia.
For what concerns myself, it was the first time that I put feet on a West-African Sub-Saharan soil, without much background information on Liberia. As I only knew that the country suffered from a long-lasting dreadful civil war, I have to admit that my image of this country was a rather dark one. However, by visiting it, by personally being part of such a passionate discussion between public and private sectors in resolving matters of food security, and also by interacting with children living in harsh conditions in slums and yet greeting me with the brightest smile a child can ever show, I realized the true significance of this project, and I was proud and thankful that I could experience all of this in my first year on the job.
Moreover, I have had the opportunity and honor to hear from the highest ranks of the Liberian Ministries that the Japanese aid, as well as JICS's procurement services, are essential for the sustainable development of Liberia. These words made me proud of my work and made me sure that this was what I signed up for.
My imperative from now on is to not forget this precious feeling, and continue to improve my everyday capacities through attention to details and extensive communication with all stakeholders, in order to provide my part in helping the development of Liberia's and other least developed countries' everyday lives.
Related links
© Copyright Japan International Cooperation System (JICS) 2023 All Rights Reserved.